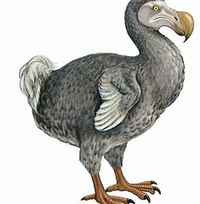 Dodos
appear in the
Thursday Next series
, where cloning is a reality and dodos are a popular choice of pet.
Thursday Next
herself owns one called
Pickwick
and Pickwick's son
Alan
lives with
Hamlet
in
his play
.
Dodos are not the only extinct animals to be reintroduced; others included Stellar Seacows and, strangest of all, Neanderthals.